The original Schi'tsu'umsh (Coeur d'Alene Tribe) homeland spans almost five million acres, stretching from Montana in the east to the Spokane River Valley in present day Washington State, and north to south from near the Canadian border to near the confluence of the Snake and Clearwater Rivers in northern Idaho.
Schi'tsu'umsh villages were established along the Coeur d'Alene, St. Joe, Clark Fork, and Spokane Rivers. The homeland included numerous and permanent sites on the shore of Lake Coeur d'Alene, Lake Pend Oreille, and Hayden Lake.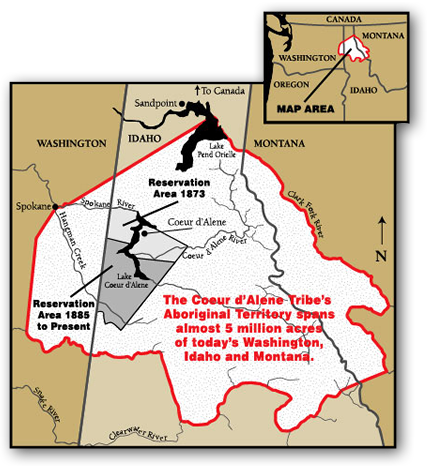 This tribe traded among themselves and with dozens of tribes far away on the Pacific coast. Ancient trade routes connected the Schi'tsu'umsh with the Nez Perce, the Shoshones, and the Bannocks to the south and southeast. To the east were the tribes of the Great Plains and the vast herds of buffalo. With the coming of horses, young Schi'tsu'umsh men journeyed east to hunt. These journeys, however, were not necessary for survival. They were viewed as adventures and rites of passage for young men who would emerge into manhood and into leadership roles.
The ancient tribal trade routes and paths remain today. In fact, those very same routes are still used all across the country. Today, however, we call those tribal routes "interstate highways."
The first Europeans to encounter the Schi'tsu'umsh were French trappers and traders. It was one of these Frenchmen who found the tribe to be vastly experienced and skilled at trading, thus the name "coeur d'alène ," literally "heart of the awl," or sharp-hearted or shrewd. The nickname stuck. One Frenchman described the tribes as "the greatest traders in the world."